My Experiences in India – 1985 – #12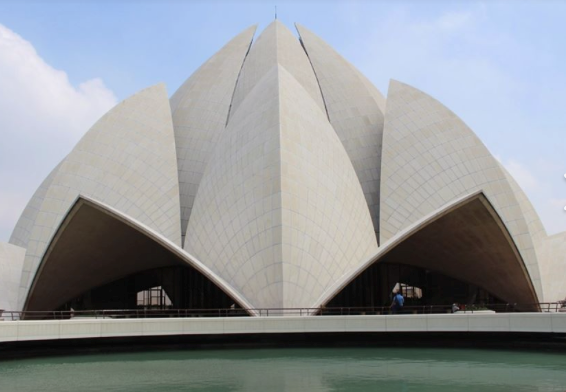 My Experiences in India – 1985 - #12
My trip back to Canada was on March 2nd. The flight was scheduled for six forty a.m. and I awoke at three a.m. and stayed up. After going through the formalities, I boarded the plane which left Delhi just after seven a.m. and landed in Frankfurt, Germany, where there was a two hour stop over. The next flight was to Toronto and it took about eight hours of flying time. After changing planes from Air India to Air Canada at Toronto, I arrived in Vancouver approximately 9 pm on March 2nd.
After being away for six weeks it was nice to be back home. I could reflect on my first visit to Kabir's India and all the experiences I had while there. This was certainly a very educational trip, and yet I have barely seen a small segment of India. Hopefully, on future trips I would be able to see more of India.
There are many more places in India which I would like to see, such as Calcutta, Kashmir, Southern India and many other Holy Shrines and places of interest. However, they have to wait until I can make a return visit by God's grace.
I hope that the readers of the Kabir Voice have been able to have a glimpse of India through my visit there. I would appreciate hearing any comments they may have.
(Here ends My Experiences in India-1985)
Here are a few later experiences:
I have visited India a few other times after my 1985 visit. In 1998 my wife, daughter and  and I attended a seven-day Brahm Nirupan program arranged by the Jamnagar  Kabir Ashram. Several thousand devotees were in attendance. It was officiated by the late Mahant Jagdish Das Shastri. He recited the verses in Sanskrit and explained the meanings in Hindi. I have now translated the Brahm Nirupan in modern English. It is available from Xlibris.com. We were fortunate to attend this program as the book is perhaps second to the Bijak in importance. It deals with the mystical teachings of Kabir Saheb such as Sar Shabda, Meditation, Self-realization and the presence of God in all manifestations. We also met several devotees from India, Hong Kong, Zambia and Mauritius.
In 2007 my wife and I attended an Ekotari Chowka program for seven days, held at Lahartara, Varanasi. This is where Kabir Saheb appeared as a child among lotus flowers. Ekotari refers to 101, so there were 101 mahants participating, each sitting on their individual gaddi (seat) accepting devotees as they moved to each mahant to pay their respects and accept blessings. These mahants were seated around the periphery of a huge tent that accommodated a few thousand devotees. Each day the morning and evening sessions included pravachans by various visiting sadhus and sants from different parts of India. And there were pravachans by late Shri Hazur Mukund Muni Nam Saheb and bhajans. Devotees were served two meals daily. On the last evening there was a grand Anandi Chowka ceremony on the stage officiated by Shri Hazur Mukund Muni Saheb and Dharmadhikari Vijay Das Shastri. Hundreds of devotees offered coconuts symbolizing surrendering the self to God, and removing the grip of ego in our life.
In March 2014 we attended another Ekotari Chowka program in Sojat City in Rajasthan. It was similar to the one above, but this time the presiding Hazur was Shri Ardh Nam Saheb. The Dharmadhikari was Sudhakar Das Shastri. In this program we met several devotees from Trinidad, West Indies. Sojat city is in the mehndi growing, processing and selling of mehndi products internationally.
A word about India's "holy cow." The cows are revered in India, and they are allowed to roam freely on the streets, even in the cities. They may sit in the middle of the streets and traffic has to go around them. If they are walking on the streets, traffic has to yield to them. They eat garbage and even plastic that is thrown by the wayside. They become undernourished or sick as I have seen on television. The cow is revered because Lord Krishna was a cowherd, and because Hindus are enjoined to be vegetarians and to practice non-violence.
The cow dung remains on the streets, is run over by vehicles, dries, and its dust is blown in the air that people breathe. I do not think that this is healthy. So we can say that the holy cow causes pollution that can make the people sick. It's like a vicious cycle. But in India people take all of this in stride as they go about their daily life. Perhaps these cows do not have owners, or their owners have abandoned them if they can no longer produce milk. These "street cows" deserve better treatment by their owners or by the government. After all, these cows produce valuable leather at the end of their lives. And India is the fifth largest leather producer in the world.
I am now ending this series of my experiences in India with visits to two temples.
The first is the lotus temple of the Baha'i faith. It is in the shape of a lotus flower set in the midst of nine lakes, and has nine arched entrances. It is made of marble and can accommodate 2500 visitors. But it is not used for prayers or worship, and there are no images or pictures. It is open to people of all religions.
The second is the Swami Narayan Akshardham Temple in Delhi. It is the largest Hindu temple in the world. Data obtained from Wikipedia:
[The main attraction of the Swaminarayan Akshardham complex is the Akshardham Mandir. It rises 141-foot (43 m) high, spans 316-foot (96 m) wide, and extends 356-foot (109 m) long.[10] It is intricately carved with flora, fauna, dancers, musicians, and deities.
The mandir also consists of 234 ornately carved pillars, nine domes, and 20,000 murtisof sadhus, devotees, and acharyas.[14] The mandir also features the Gajendra Pith at its base, a plinth paying tribute to the elephant for its importance in Hindu culture and India's history. It contains 148 life sized elephants in total weighing a total of 3000 tons.[15]   Wikipedia.]
I hope that you have enjoyed reading these twelve posts about my experiences in India. If you have any comments about the series, I would like to read them.
Best wished for the New Year for peace, health, happiness and prosperity.
Blessings and Saheb Bandagi.
(To be continued)
Dr. Jagessar Das